Over the past two or three years, I have been using this routine of scrub and mask. I have to say that, although I love it, I think it is time for a change. But before saying goodbye to these products because my skin has changed, I want to share with you my experience.
This french Brand, Eau Thermale Avène, bases its products on a source of spring water source that is located in the southeast of France. They take the water straight from its source to the production plant where the products are manufactured. So the risk of contamination is nearly 0 and its properties are mantained.
My skin is generally normal, not sensitive, so I am lucky to be able to use any product without putting any risk on my skin, so why not try these type of cosmetics designed for sensitive skin? Much better than other more agressive products for my skin.
First thing, I prefer cosmetics with a very light perfume and these are perfect. They only smell clean.

I used to have the Cleanance Mask-Scrub in the shower until now, which is part of the anti- oily skin range. Eliminates impurities, scrubs and helps to tighten pores. The brand recommends using it once or twice a week on the entire face but I don't use it around my eyes and sometimes I exfoliate my skin 3 times… I feel like I need to clean my face deeply and gently to rid it of pollution and makeup.
This mask-scrub mattifies and calms the skin because of the properties of the Avène thermal spring water that is included in its formula.

I use this scrub just before applying the second product that I want to talk you about: Antirougeurs Calm Soothing Mask. Sometimes, with the extreme change of temperature, my skin turns a bit red so I decided to try this mask the first time I felt that and I've been using it since then. It refreshes and comforts my skin after, for example, a stressful day. Improves skin microcirculation, soothes and softens.
And the most important: you get its properties in only 5 or 10 minutes!
But I leave it on for between 20 or 30 minutes…
The next product I love is a wildcard: Avène Thermal Spring Water Spray.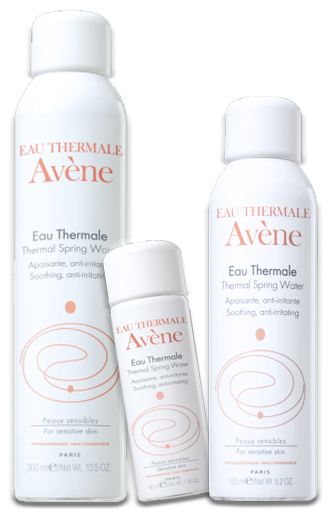 Do you know all its properties? It is amazing… is naturally soothing, anti-irritating and is rich in ingredients particularly recommended for the most sensitive skin but also for all skin types.
Properties:
On its own website they say: "You will feel wrapped in soothing softness. All the gentle purity of Avène Thermal Spring Water provides you with long-lasting protection. Following a surgical procedure, facial redness, skin irritation, sunburn, diaper rash, following make-up removal, shaving, exercise or hair removal and during travel to cool oneself".
Yes, and I add: after depilation and to fix the makeup when is finished.
I keep it on my handbag (50ml); I have one in the fridge (300ml) for refreshing myself; another next to my bed (300ml) because it helps me to sleep when is too hot, and on my desk (150ml) to awake me up when I am very tired and need to continue working. For me it is a must in my life.
So, as I said after these years it is time to switch the Avène Cleanance scrub and the Antirougeurs mask for new products, but for sure I will be on them again in the future.
PS: Avène Thermal Spring Water Spray, always will be with me!