I have spent my early years of youth 🙂 living without worries and now I have some issues to resolve because of that behavior. Suddenly, I realise that I have to do more "homework" than if I had taken care of my skin before.
One day I woke up and between my sheets appeared a pair of legs that I did not recognize… "Whose legs are these?" Yes, on that day I had a vision: Stop it!
The problem was that I did not know how to eliminate it exactly so I decided to ask a pharmacist friend who was also very sporty. She recommended me 3 brands of anti-cellulite products. I bought the first, I bought the second, finally I bought the third and…. that was the one!
Today I want to explain that it is very important to try different products until you find the appropriate one for you. And also, why not test the latest launched product or a friend's recommendation to compare and decide if yours is still the perfect product?
In this way, I found Elancyl, which matches perfectly with my skin. But I have to be honest: it worked not only because of the cream, but also because of my effort and consistency in applying creams, giving specific massages, doing exercise and eating very well during the weekdays (I have fun during the weekend). There is no miracle in this situation, only consistency.
The good thing about these particular products is that the effects remain one month after the last application and after the use of one package at minimum. So, if you have to stop of applying it for a week because, for example, you go on holiday, do not worry, your cellulite will be controlled.
So, my last 2 anti-cellulite cosmetics had been Cellu Slim Flat Stomach and Cellu Slim Night.
Most anti-cellulite brands do an estimation of the efficacy of results. This particular brand indicates that after 14 days of use, one can see results. But it is never like this in my case … I can appreciate the real changes in my skin around the end of the first month after using any cream: body or face. Of course, if the cream is good for my type of skin, my skin will feel smoother, brighter (or anything what that cream works) and much better. But in general I need at least one month to see if works or not.
Cellu Slim Flat Stomach is recommended for specific areas with stubborn cellulite,
like the stomach. I also have used it on the exterior part of my legs and if you have, for example,
visible cellulite on your arms or back of the neck, you can apply it to these rebellious areas as well.
 Its formula helps to:
– Firm, drain and destock.
– Reorganize collagen fibers for better firmness.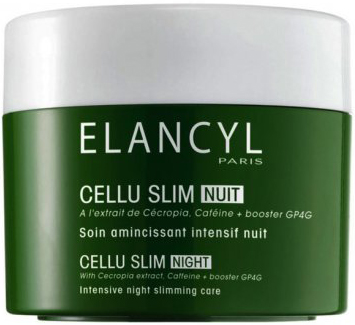 Cellu Slim Night is perfect for those who prefer to take care of themselves at night. Although I am a morning person, I have been using this night product because these last months I was able to have time for myself then. It was my relaxing time of the day.
Its properties are effective for:
– Destocking and draining. Thinning and smoothing.
– Activating cell metabolism at night.
For these two products the scent is very agreeable and most importantly it absorbs quickly. You can apply them onto your skin and get dressed immediately.
And they have 3 strong advantages:
– Only have to be applied once a day
– 24h chronobiology (the actives are released at specific hours of the day)
– The effects on the skin last for a month.
I just have finished these two amazing products and, as you know, my research continues for you
to know more about anti-cellulite…