I have done some research to find the best shampoos for every type of hair. Some friends have recommended some of them to me because I have only one kind of hair… and as I trust their opinions, I have decided to include their must-have everyday hair-care.

One of my friend's problems is that she has very rebellious and dry hair. She tries to force her hair to keep its shape obtained from 5 hours of brushing, so straight and bright…splendorous but when she stays 5 seconds outdoors, it becomes puffy and frizzy!!!
She confessed to me that, although it is not infallible because we live in a very very humid environment, the John Frieda Frizz-Ease Flawlessly Straight Shampoo helps her hair to remain under control, much better than before.
So the brand says that this new product nourishes dry and damaged hair and smooths, softens and straightens the frizz instantly. At the same time, this shampoo keeps the styling straight and assures it lasts up to 24 hours. All these are to restore the hair's natural defence against frizz, balance moisture to help to prevent frizz and block out humidity.
250ml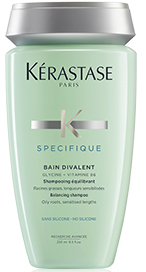 Now it is my turn… I have to confess: I have oily scalp… I bought Kerastase Bain Divalent Oily Scalp a few weeks ago and I felt my root becoming lighter and less oily since then. The general feeling is very good because the shaft of my hair is a bit dry and when I finish washing up, even if I do not use a conditioner, my hair feels good. Although it is clear that it feels better with a conditioner or mask, but sometimes I do not have enough time and I have to eliminate one these of my hair routine.
So Kerastase says that has created this shampoo to address oily roots. Sometimes roots are oily but the shaft is not, so in this case (mine), this is the perfect shampoo.
Firstly, it helps to remove excess sebum, while cleansing, purifying, refreshing and re-oxygenating the scalp. Secondly, besides it is perfect for balancing scalp and hair and for eliminating excess sebum, it is also very effective for erasing dryness of the shaft. All of these are because its formula contains their Systeme Bi Active, that gives softness, lightness and shine to the hair fibre.
250ml

One of my "flat-hair" friends complains about her hair all day. I really like it but as always, everybody wants something different from what one has.
After using the Redken High Rise Lifting Shampoo, she told me that she sees her hair with more volume and the feeling of have hair completely stuck to the scalp has dissipated. Of course, it is never enough, but she is more comfy with her style. Seeing from my point of view, I can say that she looks happier when talks about her hair and I see a huge difference in the lightness of her hair.
Redken says that this new shampoo is suitable for every type of fine or flat hair. Its formula volumises hair, while cleansing the scalp deeply.
The hair length is full, polished, silky and with a new sensation of power, that flat and fine hair never had. This shampoo gently cleanses dirty and grease whilst improving body, texture and volume.
300ml

And again me! Klorane Dry Shampoo is my best friend at home and at the office. Sometimes one has "surprise-meetings" or dinners or simply one does not hear the ringing of the alarm clock!! Those are the perfect moments for any dry shampoo.
Many people think that it is not a real hair-washing product because it is a spray that spreads powder and does not need water. In fact, its formula acts exactly in the same way as a common shampoo that relies on water. Molecules included in its formula absorb the dirt of the hair and scalp and when the powder is removed by brushing, this gets rid of all impurities.
There are another brands, some cheaper and more expensive, but this one is very good and works perfectly well. Klorane was the first brand that launched the first dry shampoo in the market during the '70s.
It is possible choose the Klorane Dry Shampoo between Nettle or Oat Milk depending on your hair type: oily or normal.
150ml
I leave you with a video that shows how to use it.
These are some of our recommendations from my friends and me. I hope you like it and that it will be useful for your beauty routine.
I will write a few more posts about the hair structure and some more tips about hair care.
Until next time!