I got these Korean masks for dry skin from a friend. She recommended them to me, so I tried them immediately. But first, I wanted to know a bit more about the brand.
Who's behind Dr.Jart+?
The brand was created in South Korea around 2004, and now is one of the best Korean mask brand.
All started in 2001 in South Korea when a dermatologist, Dr Sung Jae Jung, developed a skin care line for his patients. He wanted to offer them the best products for keeping their skin in perfect condition between treatments.
A few years later, in 2005, Dr. Jart+ was launched. The first Dr. Jart+ BB Cream was such a success that it opened the door to the rest of the world.
My relationship with the sheet masks
I love the feeling of being at home, lying on the sofa, with my legs a bit up, having a face mask while reading a book. Sometimes I forget the mask and it becomes completely dry!
I have used a lot of masks over the past few years and no mask fits me at all. There are three scenarios (or all at the same time):
A/ too small nose, so the ending of my nose is not covered or
B/ too small hole for the eyes, so I have to open the mask manually or
C/ too thin and long upper lip, so when the mask dries over the upper lip becomes to loose.
Sometimes they come so soaked that I use the rest of the essence included inside the envelope for some other parts such as the neck, chest, arms and even legs! Savings mode activated.
Dr.Jart+ Dermasks in particular
I have tested these two from Dr. Jart+. And from them I have loved:
Their packaging: very nice and resistant. The envelope is paperish, with glossy final arts prints, and nice baby colours.
They have the instructions in English, and it is clearly explained how to use it and what is inside. Very helpeful.
The masks themselves are made with thin cellulose and separated with a thick film to easy separate and apply them.
They are suitable for all skin types.
No artificial fragrance included.
What are the differences between them?
Dr.Jart+ Dermask Water Jet Vital Hydra Solution – Blue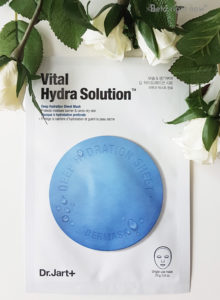 1. Action: Restores dry skin's moisture barrier. Deep hydration.
2. Formula: oligo-hyaluronic, algae extract and aquaxyl.
3. Scent: It is very floral and it has something that reminds me of when I was a kid playing with my dolls… sweet memories.
It is made with an ultra-low molecular weight hyaluronic acid, for better activation of moisture and for better improvement of absorption. This one had a lot of essence.
Dr.Jart+ Dermask Soothing Hydra Solution – Green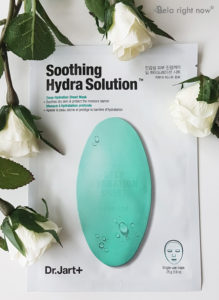 Action: Soothes dry skin. Deep hydration.
Formula: With aloe vera, phytoncide and aquaxyl.
Scent: It is with rosemary but it has something else that reminds me of some kind of pharmacy drug…. but in general it is like staying in the countryside.
The mask provides instant cooling, moisturising, and repairing dry skin. This one did not have extra essence.
So, if I had to choose one, seriously I couldn't… I think both are good enough. My only concern is that maybe they don't work completely well for ultra dry skin. But in general, are pretty good.
See you around!