Do you want new skin or recover it before the darkness seizes it forever? Here you will know more about the secret of the beautiful Japanese skin.
I really like the story of SK-II and how their scientists, 35 years ago, were looking in every corner, from Chinese herbs to hot spring water, to find the best ingredient for their products. The best ingredient for making beautiful skin lasts almost forever.
And, like most incredible things, such as the biggest discoveries (Newton, Fleming, etc), they happen by chance.
Scientists discovered that aged sake brewers still had incredibly soft and youthful hands and this is because of the yeast they used to make sake and its fermentation. Since that moment, SK-II scientists have started to work harder again but this time to uncover the best and most powerful strain among 350 varieties of yeast.
This was the birth of Pitera™, "a clear liquid, rich in vitamins, amino acids, minerals and organic acids" that improves the skin's condition and restores the skin's Natural Moisturizing Factor (NMF). It is for all these reasons that when someone uses any or a range of creams from SK-II, the skin becomes light, bright and smooth.
Basically, the NMF protects the skin's surface layer to keep it well-hydrated, smooth and away from external germs. If the NMF is removed, for example, due to aggressive beauty products, our skin will become unprotected and vulnerable to dry and dull. It can be susceptible to other important problems, such as pimples, redness, etc. So, please, be careful when you choose your skin product.
SK-II R.N.A.POWER Radical New Age Cream
I got this cream 6 months ago. This is a really good anti-aging cream but I think I bought it too early for my skin's necessities and also it is not very suitable for the environment of the city that I live in.
However, on my last trips to drier places, I noticed that this cream worked effectively and powerfully on my skin there. It prevents my skin from turning dry and I can feel it becoming more flexible, cared for and protected. Like a miracle.
At this point, I would say that the product was not well recommended to me by the beautician. Anyway, as I discovered that this cream is wonderful for my skin in dry environments, I decided give it a second change.
After my trip to the driest place, I tried on my new love at home. Immediately after returning, I discovered the quantity of product that works on my skin under my normal daily conditions, so I got more confident and started to enjoy the cream.
Now, I use R.N.A.POWER Radical New Age Cream everyday in lesser quantities than before and I give it time to absorb in an air-con room before continuing my rituals. Because I am not going to lose the opportunity to use this miracle in bottle! No, no, no….
I saw my skin glowing more, plumping up and smoothing after a few weeks. And after a few more weeks, I felt it firming and tightening more. Sometimes you have to give a second chance, persist and adapt your routine to obtain the best results. However, it is something you only try when the treatment is worth it.
SK-II has created a formula with: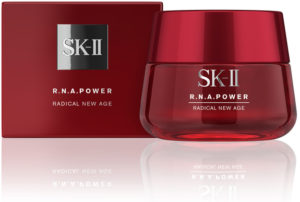 Pitera™
   Radical New Age Complex a source of overflowing firmness.
   Chlolleragen reduces visible wrinkles.
   Shea Butter for long lasting moisture and glowing skin.
I really like that it does not have a heavy scent. Its aroma is given by the ingredients included its formula and it is so different…! I don't know how to describe it. Maybe it is like the scent of everyone… it is unique and different from anything you have ever smelled.
In the next post, I will talk about the amazing, among every single essence, Facial Treatment Essence and the SK-II beauty ritual itself.
Meanwhile, I will continue looking for my perfect SK-II cream
that adapts to my skin and environmental conditions.
The good thing is that now I know the perfect cream for me in dry countries!